We are a full service commercial/industrial and residential insulation contractor based in Birmingham, Alabama. We have been providing quality service throughout Alabama, Georgia, Mississippi, Tennessee, Louisiana, Florida and the entire southeast since 1970. This company was founded on the principle of providing high quality products with superior workmanship at a fair price. In nearly 40 years of business this philosophy has continued to be the cornerstone of our company and has provided an excellent working relationship with many general contractors and other insulation companies throughout the southeast.
Urethane Foam (Spray Foam) Insulation:
We specialize in spray applied urethane foam (spray foam) used in cold storage/freezers and coolers, hot and cold storage tanks, duct insulation, flotation pontoons, barges, building/home envelope (sealing off buildings and homes to stop airflow) and many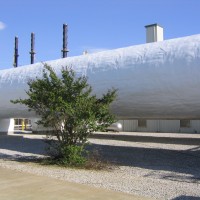 plant related applications. Commercially, urethane foam is found in truck bodies and produce coolers (bananas, tomatoes, peaches, etc.). Urethane foam is also used as a metal building insulation product and a residential insulation product for super insulated homes. Urethane spray foam is a great way to keep your home or business cool in the summer and warm in the winter! (more info)
Coatings:
Elastomerics and two-component coatings such as urethane coatings and Poly-urea are just some of the specialized coatings we offer. These products are used in many hard coat and tough coat applications such as: tank linings; bag house duct work; bed-liner applications and containment ponds.
Cellulose:
We also offer spray applied cellulose insulation by International Cellulose Corporation. Cellulose insulation has numerous applications in the commercial and industrial field from building insulation to sound control in studios, concert halls and schools. (more info)
Insulated Concrete Forms:
After years of seeing a need for superior residential insulation, we became an ARXX distributor caring a line of insulated concrete forms and related items. (more info)
Location:
Our office is located about 30 minutes northeast of Birmingham Alabama, and not too far from Atlanta, Huntsville, Gadsden, Anniston, Montgomery and Chattanooga . We not only work projects in Alabama, but all around the southeast. We've done jobs in Arkansas, Louisiana, Mississipi, Tennessee, Georgia, Florida, and more. We've even gone as far away as Puerto Rico!
We have continued to be a small family run business so we may provide quality workmanship on all our projects. We look forward to hearing from you on your next insulation project.